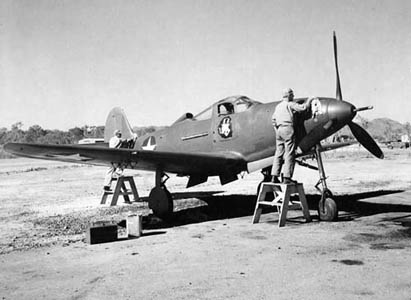 Rice Army Airfield was acquired on September 29, 1942 by the USAAF as a sub-base for Thermal Army Airfield. The base housed over 3,000 officers and enlisted men, and had barracks, latrines, showers, mess halls, and operations buildings. The base had two 5,000 foot long V-shaped runways.
When the airfield originally opened in 1942, its role was to support the DTC maneuvers. The 71st Reconnaissance Group and 85th Bombardment Group flew the North American A-36 Apache, Douglas A-24 Dauntless and Taylorcraft L-2 Grasshopper aircraft on missions in support of Army ground troops.
By mid-1943, Rice AAF focused on the training of pilots and aircrews in preparation for overseas deployment. The two units who flew out of Rice AAF during this time were;
-312th Bombardment Group (April-August 1943)
-339th Fighter Group (September 1943-March 1944)
Both air groups flew the Bell P-39 Airacobra and Curtis P-40 Warhawk.
Flight operations at Rice AAF ceased in August, 1944, and soon after was declared surplus by the USAAF.
Today, concrete building foundations, roads and rock-lined walkways still exist, but many are covered with desert shrubs and wind-blown sand. The old asphalt runways and taxiways are cracked and deteriorating, although the large concrete parking apron is in good condition.